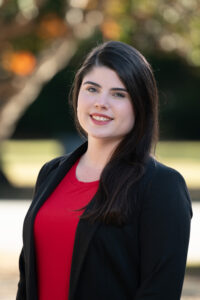 Braylee Estep, Political Director
Braylee Estep is the Political Director of the South Carolina Republican Party. She graduated from the University of South Carolina in December of 2021 with a Political Science Degree and concentrations in American Government and American Political Theory.  Braylee has worked with the Party throughout her entire career.
Starting in 2018, Braylee interned with SCGOP's Victory Program in Myrtle Beach. Since then she has worked on multiple campaigns statewide. In the 2022 election cycle, Braylee was the Regional Field Director in Georgia for the Governor Brain Kemp and Herschel Walker race. Throughout the cycle, she made over 500,000 grassroot connections through door-knocking, phone calls, and meet and greets. In 2023, she moved back to South Carolina and worked within the 7th Congressional District on the Reorganization process.
Braylee is driven by connecting voters through grassroots outreach. She also has an immense passion for small businesses. Especially her own family's business, Stalvey's Bait and Tackle that has been serving the people of Conway for four generations.